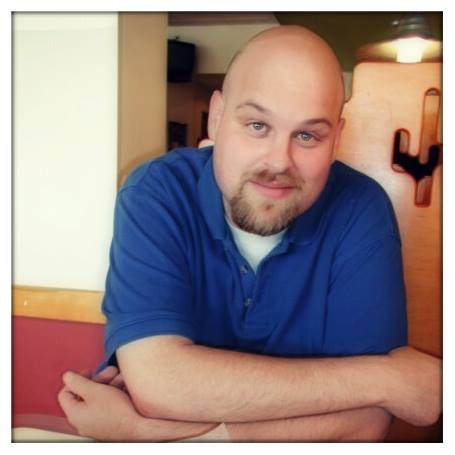 Help Support the Mick Telkamp '87 Scholarship
Please consider a donation to the Michael P. Telkamp (Mick) Scholarship. This is a $1,500 scholarship that will be given in Mick's honor to a worthy senior at Oak Hills High School who is pursuing a career in the arts. 
"Mick was one of my greatest friends in high school and college. He had such an amazing charm, a funny wit and a great devotion to the arts. I appreciate the opportunity to help donate in his memory." - Michael Schrader '87
Make checks payable to OHAEF and mail to:
Oak Hills Alumni & Educational Foundation
6325 Rapid Run Road
Cincinnati, OH 45233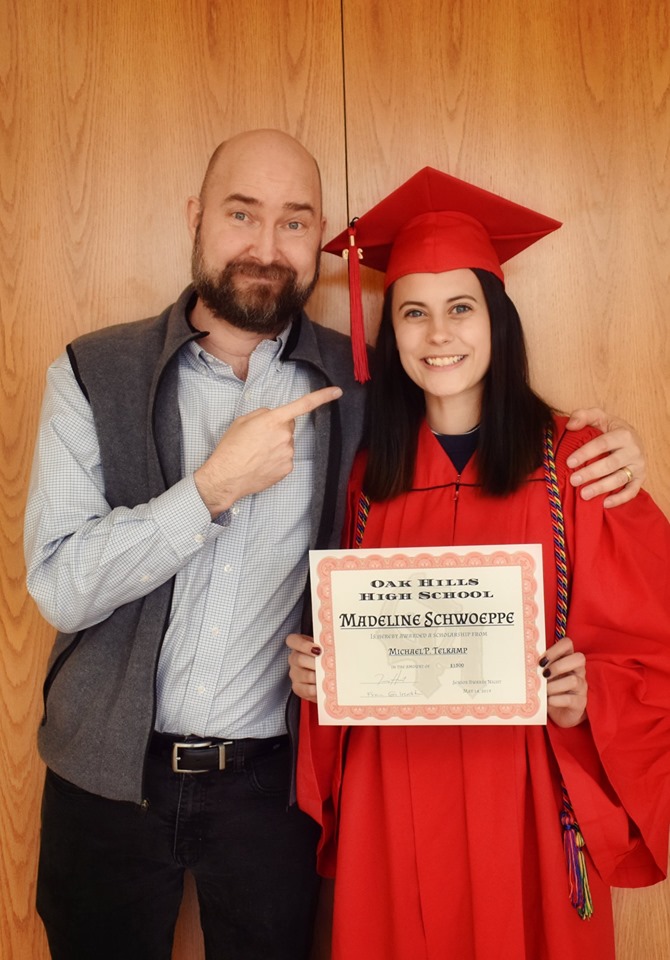 2019 ~ Madeline Schwoeppe
From Steve Groh on May 15, 2019:
"Last night I was thrilled to present the 4th Michael P. Telkamp scholarship to Madeline Schwoeppe. I have known Maddie throughout her high school career. She was one of my AP photo students and she pretty much ran Art Club for the past two years. She was an excellent student and always had a cheerful attitude...despite my nitpicking of her objectively awesome photos. The world needs more intelligent and passionate advocates for the arts, so I am excited to report that she is heading off to NKU to pursue a degree in Art Education. In fact, she told me she was gunning for my job! First, you must take the pebble from my hand, grasshopper. I wish you all the best, Maddie! You were truly a fun student to have in class."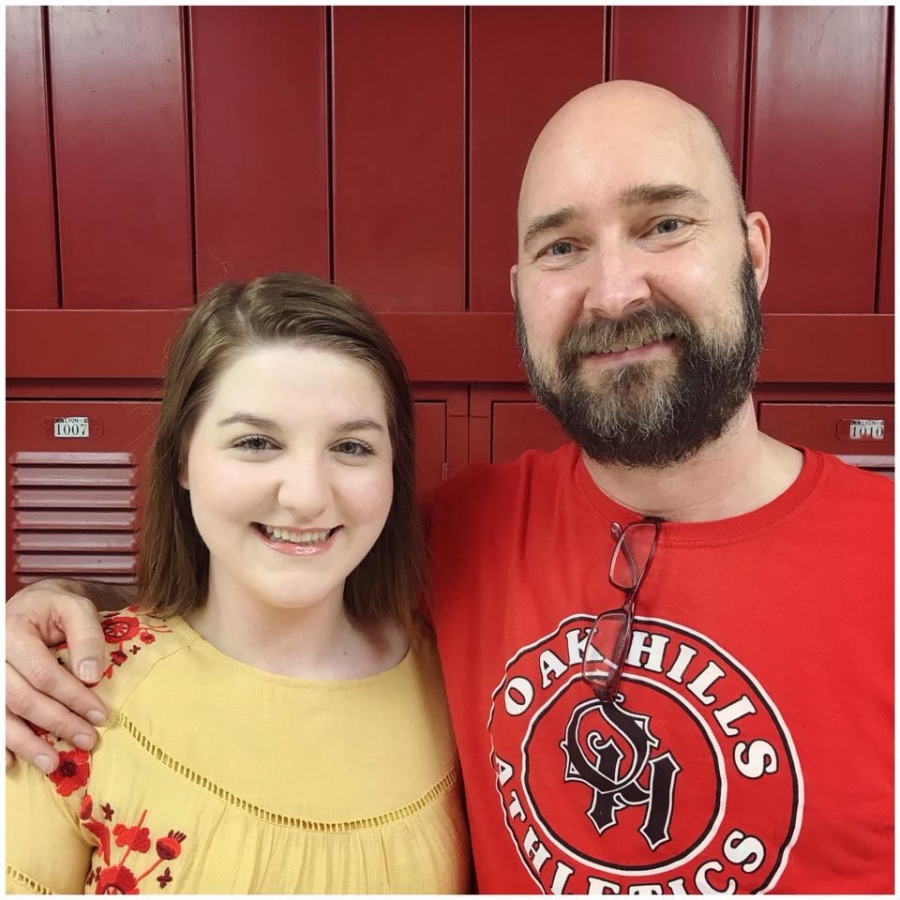 2018 ~ Grace Wagner
From Steve Groh:
In November of 2015, I lost one of my best friends. His name was Michael Patrick Telkamp but all of his friends knew him as Mick. He was a year ahead of me at Oak Hills (a member of the class of '87) and we were friends for almost 30 years. When he was a high school student, Mick was very involved in Drama and the Choir and remained a lover of all the arts throughout his life. In fact, in the late 1990s, he and his brother Jamie were the owners and operators of "The Movies Repertory Theater" on Race Street, Cincinnati's last downtown commercial movie theater. He later would go on to work for HGTV...exploring the culinary arts and numerous other creative pursuits. 
After his untimely passing, his friends and family got together and worked to raise money in the hopes of putting together a $1,500 scholarship for a student interested in pursuing an arts-related career. For the past two years the scholarship has gone to students pursuing the visual arts, this year was the first year it was awarded to someone pursuing musical theater.
We always have many impressive and worthy candidates to select from and I am sure Mick would be thrilled to know that part of his legacy has been helping some of these hard-working creative students achieve their dreams. This year's recipient is an AP scholar graduating with highest honors, she was an active member of Drama Club throughout her four years here and was actively involved in all of the plays and performances...singing, acting, costuming, dancing, directing...you name it. Ladies and Gentlemen, (drum roll) .... I present future Ball State student and future theatre director… Grace Wagner. Congratulations!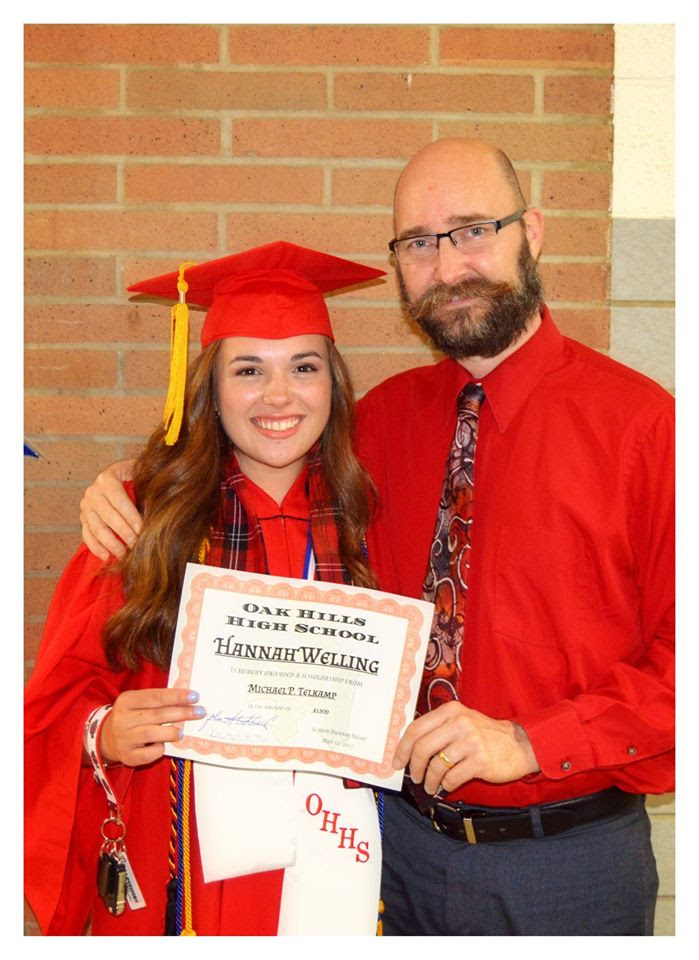 2017 ~ Hannah Welling
Oak Hills art teacher, Steve Groh '88 was thrilled to present the second Michael P. Telkamp Memorial scholarship to talented senior Hannah Welling. Hannah is an AP Scholar with Distinction and was Co-Class President.
"Hannah is one of the most enthusiastic and positive students that I have had the pleasure of teaching and I am sure she will be a star at 
The Ohio State University
 where she plans to pursue a degree in graphic design," Groh shared.
Michael P. Telkamp was known
 to his friends as Mick and was an Oak Hills alumnus from the class of '87. He passed away unexpectedly earlier last school year and his friends and family got together to create this scholarship in his honor. Last year's recipient was Taylor Helms who is currently pursuing her fine art degree in the DAAP (official) program at University of Cincinnati.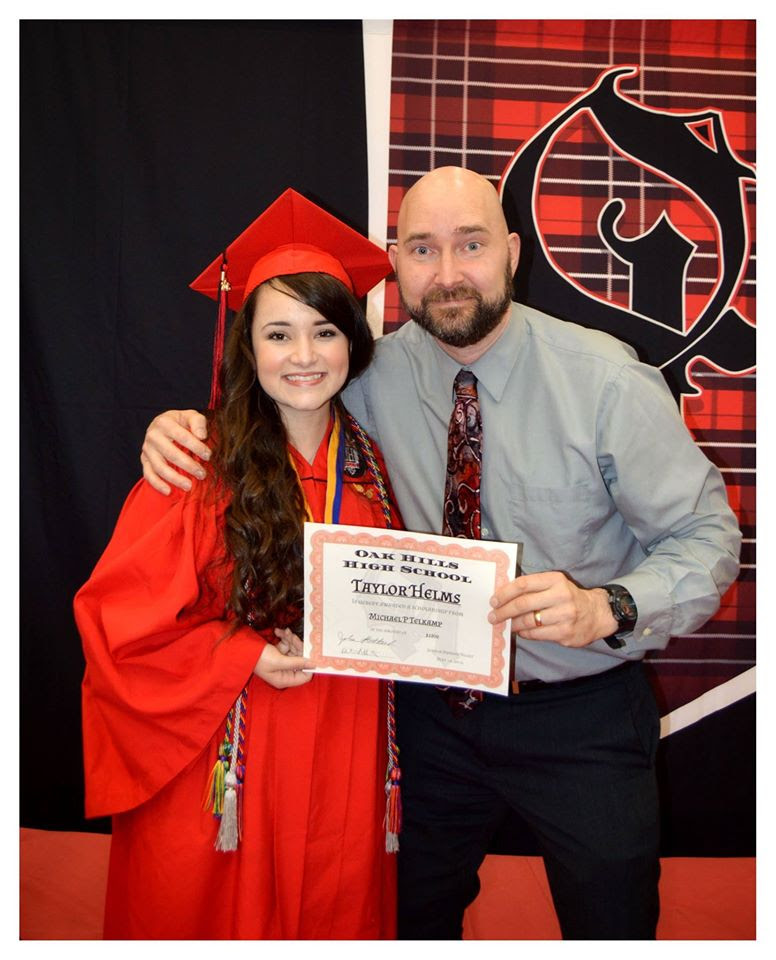 2016 ~ Taylor Helmes
In 2016 we lost one of our Highlanders, Mick Telkamp '87. His friends got together and started a scholarship in his memory. In May, senior art student Taylor Helmes received the $1,500 scholarship! Congratulations, Taylor!
Thanks to the generosity of family and friends we will offer this scholarship to another deserving Highlander pursuing an arts career next year.
Pi
ctured here are Taylor Helms and OHHS art teacher and friend of Mick, Steve Groh '88.